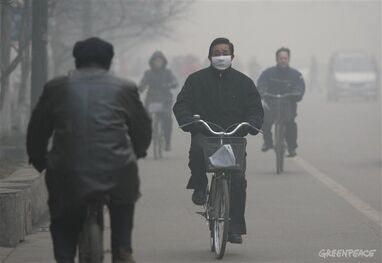 According to recent reports, asthma and allergies are on the rise in Asia. the reasons for this are given as:
Adopting modern lifestyles
Urbanisation
Climate Change (increased pollen)
Exposure to Tobacco smoke and other pollutants
Wall to wall carpeting
Rising consumption of fast food
Result of increasing Asthma Cases
Edit
Compared to the rest of the world, Asthma seems to be much more serious in Asia. For example, mortality is much higher in Asia than in the rest of the world. In China, Asthma patients between 5 and 34 have a mortality rate higher than 10%. From statistics on http://www.asthma.org.uk/news-centre/facts-for-journalists/, assuming the number of people with asthma stays approximately constant, the death rate is about 1.67% (1131 deaths per year, 5.4 million people with asthma, average life expectancy very approximately 80). This trend even happens in wester countries; in 2009 Asian Americans, though having lower asthma rates than the white population, had a 50% higher death rate (from http://minorityhealth.hhs.gov/templates/content.aspx?ID=6171). According to the World Health Organisation, over 80% of Asthma deaths occur in low and lower-middle income countries (http://www.who.int/respiratory/asthma/en/ ).
Apparently, allegries and asthma cases have doubled in many countries compared to a few decades back.
Even more worryingly, some experts think that the actual death rate may be much higher. Dr. Ruby Pawankar, the treasurer of the World Allergy Organisation, says cause of death is often being misdaignosed: "They land up in the hospital and they are just recorded as a cardio-respiratory arrest." 
The trend matches the 'Hygiene Hypothesis', that the better the sanitary conditions, the lower the rate of infection diseases but the higher the prevelance of allergies.
Low Asthma Awareness in AsiaEdit
"Allergy is a major risk factor for asthma," says Dr. Pawankar. "And, the awareness of allergy in this part of the world has been pretty low. So, the understanding that this is the triggering factor has always taken a back seat, as compared to the Western world... Fifty percent of the people with these allergies and asthma live in developing countries. They do not have access to drugs."
Patients are unlikely to have the income or insurance to pay for Asthma drugs. 40% of recognised Asthma sufferers in the Asia-Pacifc region need emergency medical treatment at least once a year.
(All information above, unless otherwise stated, found on http://www.voanews.com/content/a-13-2008-04-24-voa23-66815657/374254.html , a News report from 2009)
Further Reading
Edit
Director-General warns that Asthma is on the rise 'eveywhere' http://www.who.int/respiratory/asthma/WHA_2008/en/index.html